Alright so here's some real time boozing and writing in the big smoke...
I'm in the Pembury Tavern in Hackney quaffing the first of the day. It's a bit of a gem from the Tring brewery - Colleys Dog. At 5.2% it's an eye opener and is a pretty fine ruby ale with plenty deep malt and a satisfying fruity hop bite.
Now I've obviously had a couple while I've been down here but I've been in west Sussex limbo for 24hours and drunk a little too much ordinary brown stuff for my own good. I don't mind a maltier, brew at all but London Pride is only really good for a pint, I am also firmly in the sparkler camp - I'm a tight northerner and like a tight northern head on my pint...
The Pembury is well worth a visit, open plan, feels a bit like it's got some history to it, if you visit the website you'll find an appeal to anyone who knows about the joint so we're none the wiser... The boozer is nice and airy with a lovely selection of ales and a kinda community pub feel. Nice way to start a Sunday..
Getting a whole lot more hardcore we head o'er to CASK in Pimlico, loads and loads of amazing beer! Loads! There's pretty much everything you could want EVER. This is tick list time - we have Southern Tier, loads of Mikkeler, UNITA, Nogne, De Molen, Founders, The Bruwery, Shorts!!
Oh my fucking lord! Cancel all other plans... I'm staying here
The food is good, although the chef needs educating on how to make a proper Yorkshire pudding. Although he more than makes up for this aberration with the sticky toffee pudding.
We drank a super opaque mikkeler IPA, lovely if a little unbalanced as mikkeler can be sometimes. Currently on a Beer Here Lupulus which is gentle enough pale ale with enough malt to deal with the roast beef.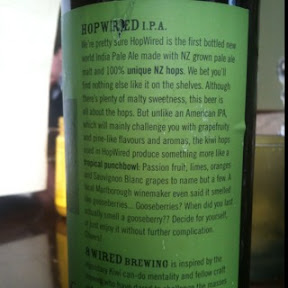 Next up some 8wired hop wired IPA, outrageously fruity, deep satisfying IPA.
Ok so it'd be rude not to, let's go mikkeler crazy!
Mikkeler coffe IPA - good, curious, it works but I'm not gonna drink pints of the stuff. Beer geek breakfast - bacon is really thick and deep, very bitter mouth-coating stout. Very long smokiness - bacon? Not really bacon just smoke... If I were to make a beer and call it bacon I'd be looking for some of that sweet, meaty, saltiness in there... But that's me and I'm not a brewer at the moment.
What I am however is a terrible bore to my drinking friends as I'm writing, and not talking so I'll bid you adieu for now. The next beer is Mikkeler protégés TOØL black ball...
Ladies and gentlemen: We are descending in to darkness!
Location:London,United Kingdom